I discovered this website and fell in love with the
shabby chic
pillows and sachets! They are adorable! I also love the motto, "Celebrating the Romance of Cottage Style." Just makes me want to run out and dive into a shabby chic cottage.
Where did the term "Shabby Chic" come from? Did you know it wasn't even a term until the 1980's? It has its roots in Great Britain where lovely old country homes were filled with elegant but worn chintz sofas, floral wallpaper and faded curtains. Shabby chic has all of the romance of the Victorian Age paired with sophisticated elegance. Today's shabby chic includes vintage or vintage looking items. Distressed furniture and pillows made with pastels in creamy white, pink or green. Trims are very popular and add to the elegance and richness of the shabby chic room.
Shabby French Themed Hanging Pillow by "Someplace in Tyme
It's fun to decorate in shabby chic style because you can get real bargains at flea markets, thrift stores and garage sales. A little sanding and painting and someone's trash becomes your treasure! Add delicate glass knobs to your dresser to add a touch of period elegance.
Shabby chic can also be a romantic theme for a wedding. Soft, sweet, elegant. Use floral patterned plates and put lacy sachets at each place setting. Drape candles in the center of the table with faux pearl necklaces on round lace place mats. Add vintage books to complete the look.
If you've refinished furniture or a room in shabby chic, we'd love to see it. Share the photos on the comments below!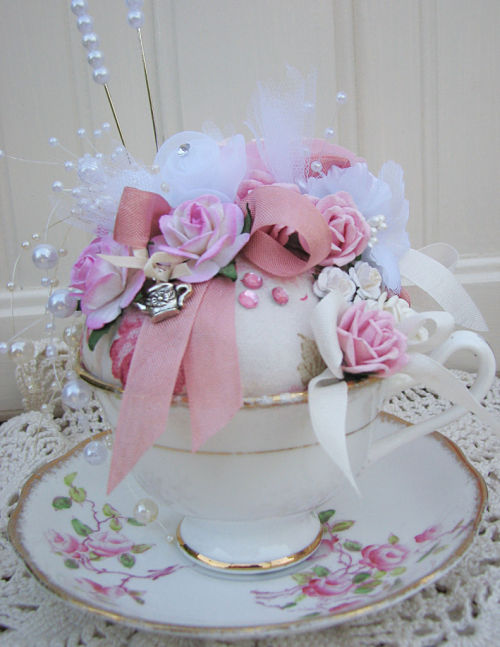 Teacup Pincushion by Someplace in Tyme
And check out "Someplace in Tyme" for more shabby chic loveliness:
http://someplaceinthyme.com/category_1/Cottage-Pillows.htm
Angela Di Cicco
Pink Silk Flower Button Bouquet by Angela's Artistic Designs


Angela's Artistic Designs
http://www.etsy.com/shop/angel9